21
Jul
2012
In Blog
By cre8tivefocus
QR codes…to use or not to use…
On 21, Jul 2012 | In Blog | By cre8tivefocus
QR codes have been around for a while now, but in the last year or so, they have started to be used in very unique and creative ways to engage customers. They can also be used in very uncreative ways too…you have seen it the black and white blob just stuck on a corner of a brochure or sign.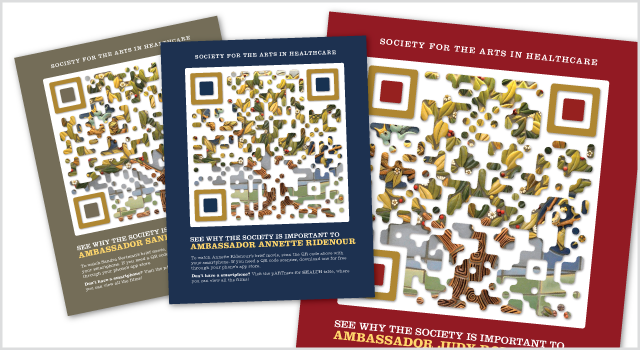 Don't let your QR code advertising be blah – spice up your promotions with a customized QR code. We can incorporate images, logos, brand colors and other things into your code to give it the "pop" that will make users want to scan the codes.
Now where you send your users in another thing…don't just send them to a standard page on your website, think out of the box…you can add fun twists whether its a scavenger hunt type promotion that sends users looking around your site for clues, discounts that are specific to users who scan the code or maybe just an interesting video about your product or service.
There are tons of creative ways you can use QR codes, and CreativeFocus can help. Contact us today and see what we can cre8te for you!
Images:
Top: Poster series for SAH used at a conference. The codes lead users to various YouTube videos that offer testimonials from various artists.
Bottom Left: Our QR code, that allows users to connect with our Facebook page.
Bottom Right: Poster for a wedding planner that is used at bridal trade shows and allows potential customers quick access to their business information.